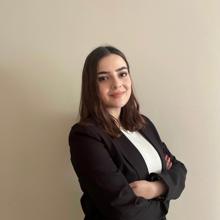 About
She completed her psychology undergraduate education at Bilgi University and the University of Liverpool, and she graduated with a double diploma and an honors degree. Immediately after her undergraduate education, she started her graduate education in Clinical Psychology at the University of Sussex in England. She successfully completed her master's degree with her project titled "The Effects of Psychoeducation on Rumination and Mental Health when Applied by Adding to Mindfulness Practice." During her undergraduate and graduate education, she did many clinical internships in hospitals, medical centers, and private psychological counseling centers. She worked as a volunteer assistant psychologist at a private family and children's center. She completed her neuropsychological testing training and qualified to practice it. She worked as a research assistant on a project at Istanbul Bilgi University Psychological Counseling Unit (PDM). She has completed Cognitive Behavioral Therapy training and supervision given by Professor Mehmet Zihni Sungur. She received Schema Therapy International Certification training from Doctor Alp Karaosmanoğlu. She gave individual counseling services to students at a private university. She continues individual psychotherapy sessions with adults. She provides therapy with Cognitive Behavioral Therapy and Schema Therapy techniques. She gives therapy in English and Turkish. She is a member of the Turkish Psychological Association, the British Psychological Society, and KTTD (Cognitive Behavioral Therapies Association).
Areas of Expertise
Bipolar Disorder
Depression
Communication Problems
Relationship Issues
Anxiety
Motivational Problems
Obsessive-Compulsive (OCD)
Anger Management
Self Confidance
Panic Disorder
Test Anxiety
Social Anxiety
Anxiety
Education
İstanbul Bilgi University / University of Liverpool
Psychology / Undergraduate
University of Sussex, UK
Clinical Pychology and Mental Health / Graduate
Seminars and Conferences
•Cognitive Behavioral Therapy (KDTD, Prof. Dr. Mehmet Zihni Sungur)
•Cognitive and Behavioral Therapy Supervision (KDTD, Prof. Dr. Mehmet Zihni Sungur)
•Schema Therapy -ISST Approved Schema Therapy Certification Program (Prof. Dr. Alp Karaosmanoğlu)
•Mindfulness-Based Cognitive Behavioral Therapy (University of Sussex)
•Neuropsychological Tests Practitioner Certificate (Turkish Psychological Association)
•Neuropsychological tests application and reporting (Çapa Medical Faculty)
•Clinical Psychology Training Program (Private French Lape Hospital)
•Gender Perspective Seminar in Therapy (ÇATED)
• İntihar ve Risk Değerlendirmesi Eğitimi, Prof. Dr. Mehmet Eskin & Hiwell, 2022
Start feeling better
today!
After downloading the app and you will get matched with the psychologist that best fits your needs. You can make a free 15-minute video call with your therapist to see if you're compatible with them and begin your therapy journey.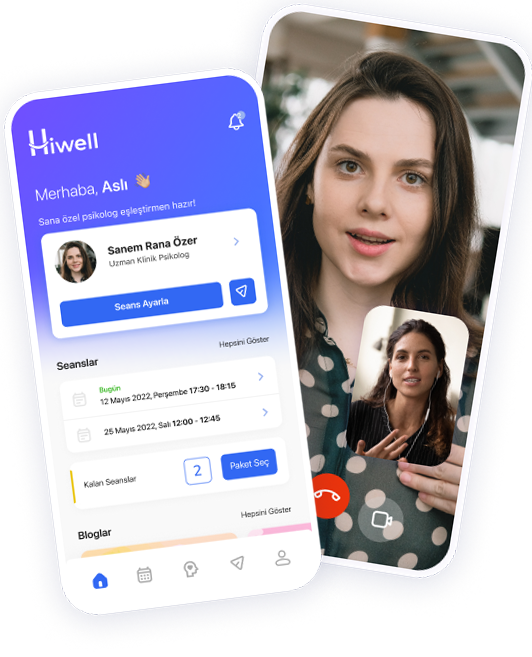 Resources
| | |
| --- | --- |
| Emergency | 112 / 999 |
| Hotline (UK – Local rate) | +44 (0) 8457 90 90 90 |
| Hotline (UK – Minicom) | +44 (0) 8457 90 91 92 |
| Hotline (ROI – Minicom) | 1850 60 90 91 |
| Hotline (ROI – Local rate) | 1850 60 90 90 |
| Samaritans.org (UK & Ireland) | samaritans.org |
| Help for suicidal thoughts (UK) | nhs.uk |
| YourLifeCounts.org (UK & Ireland) | yourlifecounts.org |