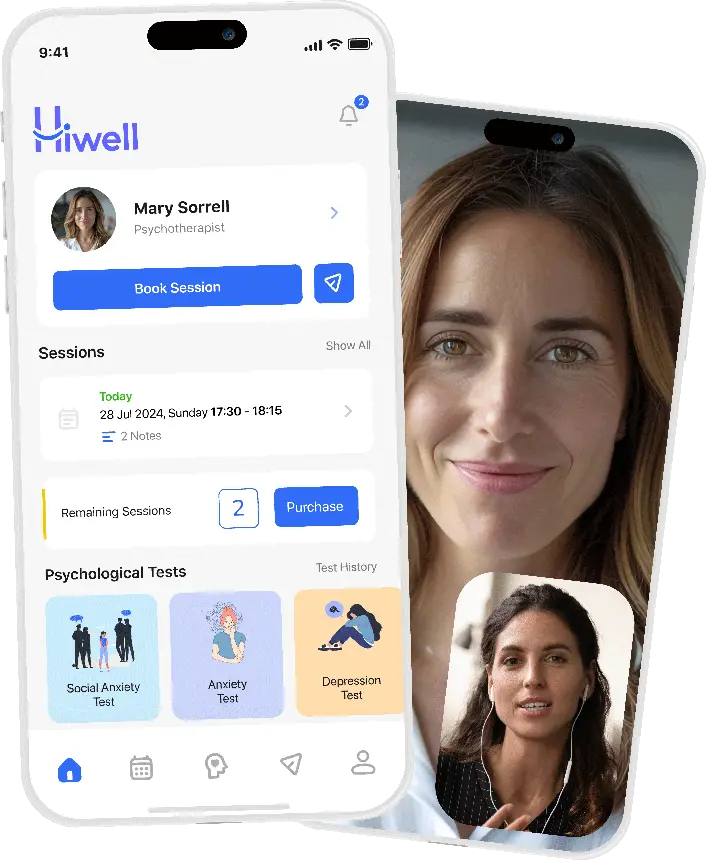 Get matched with the best online therapist for you!
Our advanced matching algorithm finds and suggests the most suitable therapist with the right expertise for you. Your responses to the questions while registering will allow you to be matched with the best online psychologist for your unique needs. All of your responses are encrypted and protected by our confidentiality agreement. On our platform, none of the online therapy or psychological counseling sessions are recorded.
Get a free video call!
Before starting online therapy, you can make a free 15-minute welcoming video call with the psychologist our matching algorithm has chosen for you to see if you get along. You may also ask any questions you have about the process. If you aren't happy with your therapist, you can make another welcoming video call with a new therapist.
Start online therapy!
Based on your impressions from the welcoming video call, you can start online therapy by purchasing a session to continue your meetings with your psychologist. With our advantageous package options, you can buy more than one session. Start getting therapy and mental health support whenever you want without having to waste time trying to find an online psychologist appointment.
Every online psychologist at Hiwell is an expert in their field to ensure the best quality and ethical online therapy and psychological counseling at all times.
• At Hiwell, the competence of the psychotherapists we hire for online therapy are our top priority. • We use a step-by-step interview process to find psychologists with the right training and experience so that we can give the best service at every stage. • During their time at Hiwell, we help our expert psychologists learn, get supervised, and grow as professionals.
We do this in order to provide the best service for you at all times.
Get to Know the Hiwell Psychotherapists
FAQs
Everything you need to know about the product and billing. Can't find the answer you are looking for? Please text to our friendly team.
See All FAQs
Based on your answers to the questionnaire, you will be matched with the most suitable online therapist. You can contact your therapist by logging into the Hiwell mobile application or via portal.hiwellapp.com. Before staring your online therapy journey, you can video call your online therapist for 15 minutes free of charge and ask your questions. You can find our mobile app on the App Store, Google Play Store, and App Gallery.
You can message your therapist about the dates you are available or by selecting slots from the suggested dates. Your therapist will reach you within 24 hours to set up the 15-minute free-of-charge video call before starting your online therapy journey.
You can purchase sessions from the Hiwell mobile application and web portal. The fee for 1 session is $55 for all therapists. Don't forget to check out our packages!
You can join the online therapy sessions both on your mobile device and your computer.