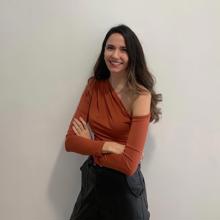 About
She completed her undergraduate education at Istanbul Bilgi University, Department of Psychology. During her undergraduate studies, she had the opportunity to do many internships and volunteer work. She volunteered for social responsibility projects at a variety of institutions, including TEGV and KAÇUV. She completed her internship at Bakırköy Psychiatric Hospital in her undergraduate years. During her undergraduate studies, she carried out a project with the University of Budapest in cooperation with Aiesec. Within the course of this project, she participated in psychosocial activities with mentally and physically disabled individuals for 2 months. After graduating, she completed her MA in Clinical Psychology at Bournemouth University, England. While continuing her master's degree, she completed Yıldız Technical University family counseling certification program. She completed Solution-Focused Brief Therapy, Cognitive Behavioral Therapy and Emotion-focused therapy training. She was also trained in the fields of Play Therapy and Filial Therapy, which were established by the Play Therapy Association. She provides therapy to children, adolescents, and adults. In addition, she continues to write in Manşet Turkey as a columnist.
Areas of Expertise
Depression
Aviation Psychology
Anxiety
Anger Management
Test Anxiety
Social Phobia
Eating Disorders
Education
İstanbul Bilgi University
Psychology / Undergraduate
Bournemouth University
Clinical Psychology / Graduate
Seminars and Conferences
• Cognitive Behavioral Therapy (Hakan Turkcapar)
• Solution-Focused Brief Therapy - Psychology Academy
• Family Counseling - Yildiz Technical University (450 hours)
• Emotion Focused Couples Therapy 1 level- DOÇAT
• Psycholoncological Art Therapy Techniques (KAÇUV)
• Child Centered Play Therapy - Play Therapies Association
• Filial Therapy Education - Play Therapies Association
• Child Projective Tests Education- Psychology Academy
• Child Psychopathology Education-Psychology
• Play and Effective Reading Education (TEGV)
• Effective Speaking and Diction Training (ISMEK)
• Sign Language Education (ISMEK)
• Suicide and Risk Assessment Training, Prof. Dr. Mehmet Eskin & Hiwell, 2022
• Introduction to Psychological Counseling in the Aviation Sector, Clinical and Health Psychologist Gonca Küçüktetik & Hiwell, 2022
Start feeling better
today!
After downloading the app and you will get matched with the psychologist that best fits your needs. You can make a free 15-minute video call with your therapist to see if you're compatible with them and begin your therapy journey.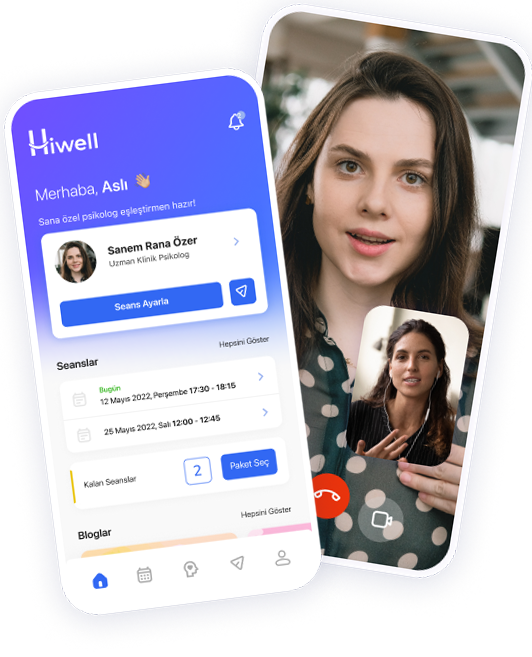 Resources
| | |
| --- | --- |
| Emergency | 112 / 999 |
| Hotline (UK – Local rate) | +44 (0) 8457 90 90 90 |
| Hotline (UK – Minicom) | +44 (0) 8457 90 91 92 |
| Hotline (ROI – Minicom) | 1850 60 90 91 |
| Hotline (ROI – Local rate) | 1850 60 90 90 |
| Samaritans.org (UK & Ireland) | samaritans.org |
| Help for suicidal thoughts (UK) | nhs.uk |
| YourLifeCounts.org (UK & Ireland) | yourlifecounts.org |